How to Get Lamps and Lanterns Imported to China? A Case Share from A Shang Customs Broker
Lamps and Lanterns are tools used for illumination, including chandeliers, table lamps, wall sconces, floor lamps, etc., which can be used in households, commercial spaces, offices, and other places. The lighting fixture market in China has become increasingly diversified, and consumers' demand for Lamps and Lanterns is also on the rise. High-end Lamps and Lanterns are mainly imported from countries such as Italy, the Czech Republic, Malta, Spain, Portugal, and Germany, which are renowned for their quality, design, and craftsmanship.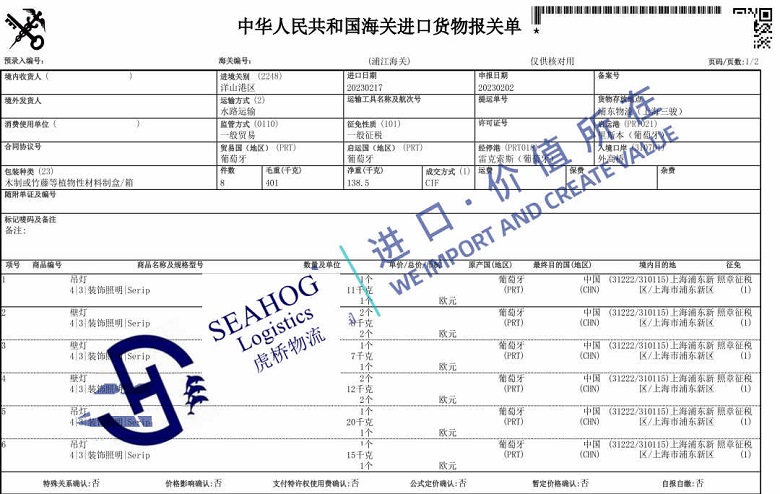 Our Shanghai import customs clearance agency team recently handled the customs clearance for a batch of imported Lamps and Lanterns at the Waigaoqiao Port. This batch of Lamps and Lanterns includes 5 chandeliers and6 wall sconces, and originated from Portugal. We are very proud to be able to handle the customs clearance for these high-quality imported Lamps and Lanterns. This is also a successful case for us to import Lamps and Lanterns.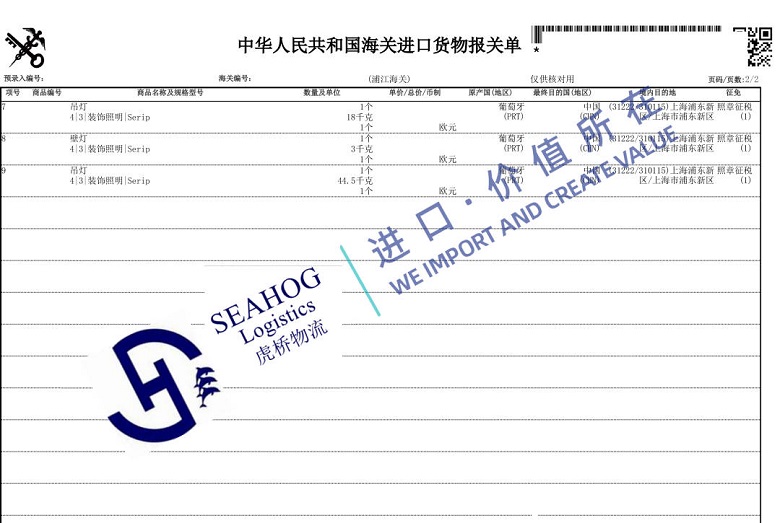 Based on this case, we would like to share some key points about importing Lamps and Lanterns to China and the customs clearance:
HS Code Classification
Imported Lamps and Lanterns are divided by product name, mainly including branched chandeliers, wall sconces, table lamps, floor lamps, bedside lamps, T-spotlights, spotlights, LED lamps, etc. According to China customs classification, the main HS codes for Lamps and Lanterns are 9405100000 (chandeliers, wall sconces) and 9405200090 (table lamps, bedside lamps, floor lamps). Before importing, customers need to confirm the correct customs code to ensure a smooth import process.
Difficulties in importing Lamps and Lanterns
Imported Lamps and Lanterns have some special declaration elements that require a thorough understanding before import. In addition, Lamps and Lanterns need to undergo CCC certification, which is a long-cycle and high-cost process. Some handcrafted Lamps and Lanterns are difficult to provide 3C certification, which brings additional difficulties to the import process.
Our company has rich experience in customs clearance for imported Lamps and Lanterns at various ports, and we can solve the problem of CCC certification for lighting fixture imports. We can also provide relevant advice to help customers reduce import costs and risks. If you have an import requirement, please contact us in advance for consultation. We will provide you with comprehensive support with professional and efficient service.