Shenzhen Import Clearance and Door to Door Services for Semi Gemstone Materials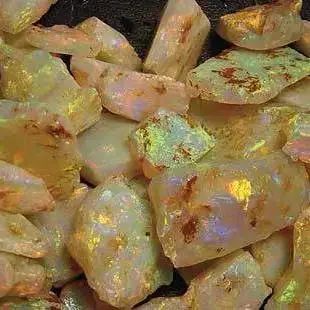 Semi gemstone is one type of gemstones. There are a lot of different varieties of semi gemstones, such as tourmaline, cystal, lapis lazuli, aquamarine, garnet, olivine, krocodylite. labradorite, obsidian, malachite, kallaite, rhodochrosite, charoite, aventurine, fluorite, agate, Czech meteorite, opal, sugilite, spodumene, calcite and so on. In addition, organic gemstone tridacna, chrysophoron, pearls and coral are also classified as semistone.
Seahog Logistics's Shenzhen customs broker team recently helped a company based in Shen import a shipment with semi gemstone raw material from Cambodia via UPS. It was Seahog that arranged UPS and handled the customs clearance in Shenzhen airport. As pictured, we share the relevant China import customs declaration sheet.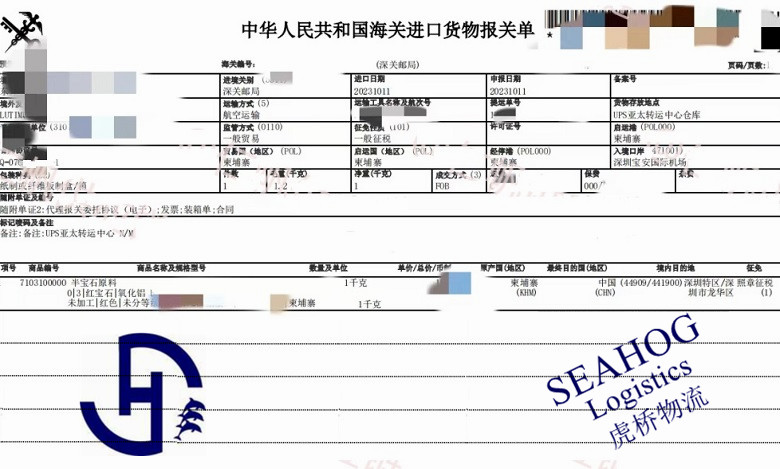 The required documents for handling the import China customs clearance for semi gemstone raw materials are listed as below:
1, packing list, invoice, contract, sea/air waybill, certificate of orin
2. the consignee company in China shall have import right. If the Chinese consignee company does not have import right, Seahog can lend them Seahog¡¯s import title and qualification.
3. declaration elements: variety, mineralogical name, English name, chemical component, processing status and stage, color, grade, source
Some Notes for Importation of Gemstone
1.Make clear the country of origin, the quality and purity of gemstones or semi gemstones originated from different regions are quite different,
2.The declaration info must be honest and accurate, otherwise it might lead to the repeated verification by China customs on the declaration docs and the actual goods, which will deeply affectthe clearance efficiency and speed.
Note: Seahog has DHL, TNT, Fedex, and UPS accounts, and is able to provide pick up, door to door services with competitive rates, high efficiency and smooth clearance.
Seahog provides doc making service based on the invoice provided by clients, help transfer/collect overseas payment, offers import titles and acts as Chinese consignee/importer, help obtain import permits for different products, trying to satisfy different import needs for different clients.